Looks are not necessarily selection criteria for webcam models, but it is actually important to take care of your body. Your hair, your makeup, and your outfits will help you stand out from the crowd, so it's important to always look your best.

On the other hand, using makeup products daily can damage your skin. Thus, it's really important to protect it properly if you want to keep your looks and feel comfortable. Keep reading to find some tips that will help you keep your skin clean and healthy!

Protect it from sunlight
It's vital for your health, but a lot of webcam models don't really keep this in mind when they go to the beach or spend a day at the poolside. Long exposure to sunlight can cause wrinkled skin, spots, and other issues. You would want to avoid these consequences when working as a webcam model. Plus, we can't forget that prolonged exposure to sunlight can increase the risk of skin cancer.

Before you expose your delicate skin to sunlight, it's important to apply a cream that has at least an SPF of 15. If you're planning to spend a lot of time outside, keep in mind that you have to apply the cream every 2 hours. Dry skin, spots, and wrinkles can affect webcam model earnings, but it can also affect your health, which should be more than enough reason to protect yourself.

Treat it gently
Hot baths and regular soap/bath gel can dry out your skin, eliminating the natural body oils. Thus, it's important to clean your skin with warm water and natural soap. If you have sensitive or dry skin, you can use a hydrating product. Most webcam models use makeup on a daily basis, so skincare is important first thing in the morning, as well as before going to bed after you removed your makeup.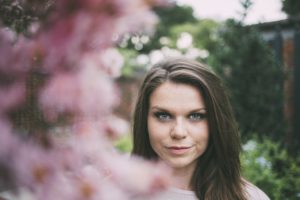 Hydrate it
After you clean your skin, remember to hydrate it! Gently massage your skin daily with a cream that fits your skin type. You don't have to go all out on the cream! Just buy one that can hydrate and nourish your skin – it will help with cellular regeneration. Clean and hydrated skin will look amazing through the webcam, so good skincare can actually help webcam models look, feel, and earn better. Plus, there will always be guys that will want to see you without your makeup on.

Avoid touching your face
People touch their faces hundreds of times each day, so the skin is under assault from bacteria and microorganisms that can irritate it. Keeping your hands off your face can be difficult, but you should try to remember the effects that some casual gestures can have on your skin's health.

Exfoliate
If you're a webcam model that uses makeup regularly, you should also use exfoliating products once or twice every week. This process helps you clear off the dead skin cells and it's great for skin regeneration. You don't have to rub aggressively, though. Just massage gently and you'll get the best results.

When you work as a webcam model, skincare is really important. Even if you're not using a lot of makeup, the advice above will help you glow in front of the camera.